Whether you're a pro user or gamer, we have all the tools you need on justgpu.com to compare benchmarks and gaming performance to find the perfect GPU for you.
What video card should I buy?
When shopping for a video card (or known as graphics card) there are many details to factor in such as what brand you might prefer (ASUS, MSI, EVGA, Gigabyte), PSU wattage for a whole build, core clock and more. Let our advanced filters do the heavy lifting to easily find a graphics card. First click Shop All GPU then use the filter options such as GPU series, manufacturer, GPU memory, core clock, PSU wattage and more to narrow your results.
If you want to put two graphics cards up to the test, compare two cards for a complete visual breakdown.
How do I Shop All GPUs?
1. From the main page click Shop All GPU.
2. Use our advanced filter options such as what GPU series you're looking for (RTX or RX), favorite Manufacturer, memory size, GPU length, PSU wattage, and price. All options based on your choices will be displayed.
How do I use the compare feature?
1. Click Benchmark GPU.
2. Choose your fighters, and graphics cards you want to go head to head.
3. Add some more filter options such as Manufacturer and GPU Series to personalize your comparison.
How do I search for a specific video card by PSU wattage?
If you're looking to upgrade or purchase a card based on PSU, select Shop All GPU. In the advanced filter options choose a PSU Wattage and any other specification you're looking for. Please note that PSU Wattage must factor in Watts needed for an entire PC Build.
What Video Card is best for gaming?
To compare graphics cards based on your video game preference, use our Benchmark GPU tool. Select a Manufacturer and GPU Series preference. Follow these same steps for the graphics card you're going to compare. A visual breakdown of the FPS you can get out of each popular video game along with other specifications will populate.
or after you Shop All GPU with advanced filters, click on the FPS to find out how much FPS you get out of each video game based on Resolution and CPU.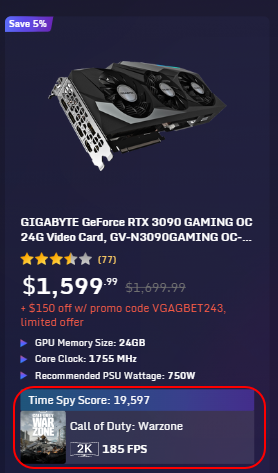 Is RTX better than GTX?
Unless you're specifically looking for ray tracing, what to buy really depends on the specs you prefer and what you're using the graphics card for. If you're looking to put two graphics cards up to the test and see a visual comparison, use our Benchmark GPU feature mentioned above.
If your looking for something more in-depth select Shop All GPU.
Comparing two graphics cards allows you to see a breakdown of specs, features and price range.
How do I update my video card drivers?
Most manufacturers will have built-in features to auto-detect and update your drivers. To find out what built-in experiences come with your graphics card, you can check out the manufacturer's website directly.